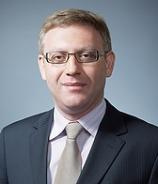 Roman Simonov
Managing Director
Moscow
Roman Simonov joined Russia Partners in May 2010 and serves as a Managing Director responsible for projects in the Technology, Media and Telecommunications (TMT) sector across all stages. Prior to joining Russia Partners, Mr. Simonov was a Managing Director at Delta Private Equity Partners. Previously, Mr. Simonov worked at Intel Capital, the world's largest corporate venture capital program, sponsored by the Intel Corporation.
During his ten year career at Intel, Mr. Simonov held several financial and strategic business development positions. He joined the Intel Corporation as a Senior Financial Analyst in their Operations and Finance department in 1996 and, in 1999, transitioned to a position with Intel Capital. In 2003, he brought Intel Capital to Russia and helped launch its Moscow office. Mr. Simonov was involved in several dozen transactions while at Intel Capital, the largest of which was a $250 million pre-IPO investment in Infineon (a spin-out of Siemens). Additionally, he sourced and completed the acquisition of the Elbrus/UniPro Group of companies, resulting in the integration of more than 550 employees into Intel's Russian engineering business. He also received the Intel Achievement Award for his involvement in an $80 million investment in Nikon Corporation.
Mr. Simonov graduated from the Moscow Civil Engineering University and holds an M.B.A. in Finance from Case Western Reserve University's Weatherhead School of Management.