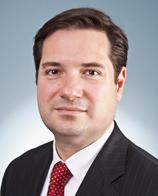 Ralph Jaeger
Managing Director
Boston
Ralph Jaeger is a Managing Director at Siguler Guff. Mr. Jaeger is the portfolio manager of the Firm's emerging markets multi-manager funds and separate accounts, and a member of the Investment Committees for the Firm's BRIC Opportunities Funds. Leveraging his extensive experience in international private equity, Mr. Jaeger is responsible for portfolio construction, sourcing, analysis and monitoring of the Firm's emerging markets investments.
Prior to joining Siguler Guff in 2012, Mr. Jaeger worked at Cambridge Associates LLC, an independent financial consulting firm, where he co-led the firm's international private equity and venture capital research efforts. Mr. Jaeger focused specifically on Emerging Markets and had primary responsibility for analyzing market trends, identifying compelling investment opportunities, and performing in-depth due diligence. During his tenure at Cambridge Associates, Mr. Jaeger also launched the inaugural benchmark for private equity in Africa in collaboration with the African Venture Capital Association and three major International Finance Institutions and was a regular guest speaker at leading international industry conferences.
Prior to joining Cambridge Associates in early 2008, Mr. Jaeger worked at von Braun & Schreiber Private Equity Partners GmbH in Munich, Germany, where he analyzed and executed primary and secondary distressed fund investments. Previously, he held positions with PAI Partners and J.P. Morgan Partners, LLC, where he analyzed investment opportunities in the industrial and services sectors, and served on the boards of four European companies. Mr. Jaeger began his career in private equity at Industri Kapital in 1999.
Mr. Jaeger holds a B.A. with honors in European Business Administration from Middlesex University, a Diplom-Betriebswirt from ESB Business School der Hochschule Reutlingen, and a banking degree from the Frankfurt Chamber of Commerce. He is fluent in English, German, French and Spanish, and conversational in Turkish.