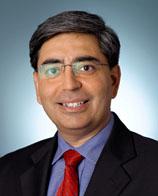 Praneet Singh is a Managing Director at Siguler Guff and a member of the Investment Committees for the BRIC Opportunities Funds. He is a senior member of the Firm's investment staff and is actively involved in managing investments in India and the frontier markets. Mr. Singh joined Siguler Guff in September 2008 and brings a unique mix of operations, marketing and consulting experience, as well as expertise in the healthcare and consumer sectors, to the Firm.
Prior to joining Siguler Guff, Mr. Singh headed the $325 million Indian operations of Piramal Healthcare Limited, India's fourth largest pharmaceutical company. Prior to that, he worked for more than seven years in the Mumbai, Delhi, Boston and Santiago offices of McKinsey and Company, focusing on operations, marketing and strategy. Mr. Singh also worked in marketing at Procter & Gamble in India and Southeast Asia for five years. He was born and raised in Delhi, India.
Mr. Singh holds a B. Tech. in Mechanical Engineering from the Indian Institute of Technology Delhi and an M.B.A. from the Indian Institute of Management Calcutta.