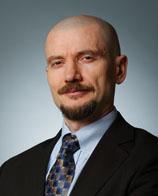 Evgeniy Gorkov
Managing Director
Cyprus
Evgeniy Gorkov joined Russia Partners in February 1998 and now serves as a Managing Director. Mr. Gorkov formerly served as Managing Director of the EBRD Lower Volga Regional Venture Fund and is now a Director of Russia Partners. From 1995 to 1997, he was a Manager in the Corporate Finance department of Price Waterhouse.
Prior to joining Price Waterhouse, from 1991 to 1993, he was Deputy Governor of the Nizhniy Novgorod Oblast Administration, in charge of International Relations.
Mr. Gorkov holds a B.A. from the Nizhniy Novgorod Institute of Foreign Languages, an M.B.A. from the University of Chicago and was a Ph.D. candidate in Political Economy and Government at Harvard University.